We offer pre-fabricated cabinets that are ready to be professionally installed by our experts in your Clermont, FL home.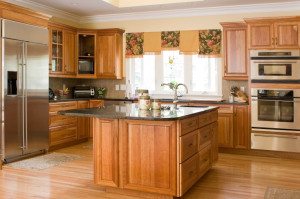 At The Gallery of Stone, we offer all types of kitchen renovation services to transform your kitchen into the space you have only dreamed of having. Choose from elegant granite options, which we will fabricate on-site to make sure it is done correctly. We use sharp saws and studded metal blades to produce smooth and clean edges. In addition to granite, we also offer cabinets that can upgrade and transform the look of your space. Some of the most popular kitchens have very light or very dark cabinetry, so consider adding this to make your kitchen look more modern.
At The Gallery of Stone, our service area includes Clermont, Florida, as well as areas within a 30-mile radius of our store location. You are welcome to visit our store to see samples of stone countertops and backsplashes, as well as the cabinets that we have for sale. We have been in business for over a decade and have renovated thousands of kitchens and bathrooms in the area.
Our cabinets are pre-fabricated, which means that they will come to your home already built and ready for installation. Our team of renovation experts will measure the space and give you an estimate before they start working, so you will know what to expect before the project begins. Pre-fabricated cabinets are much more affordable than custom cabinets, and the main difference is that pre-fabricated cabinets come in certain sizes that will fit in most standard kitchen or bathroom spaces. We provide excellent customer service for your project and will make sure you are happy with the results.