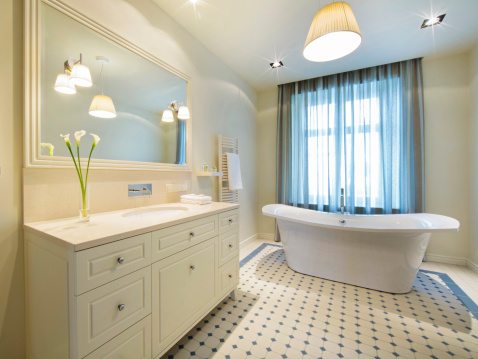 Renovation projects are best left to professionals like us at The Gallery of Stone, especially if this is your first bathroom remodel. Bathrooms can be tricky because you have to keep in mind lead times and materials – not to mention all the labor involved. The last thing you need is to make a hash of the project, and then have to call us to sort it all out!
There are so many moving parts in a bathroom remodel – from the design phase to installations. With us, you can rest assured that every small detail will be taken care of. From start to finish, we'll guide you through all the difficult decisions concerning the fixtures, vanities, countertops and all the other elements involved.
We have the skills and experience to not only do the work, but also to help with your bathroom design to ensure that your remodeling experience is the best that it can be. We offer our services to both residential and commercial clients.
At The Gallery of Stone, we can create a dream bathroom of any size in the Orlando / Clermont area of Florida and add elegant touches to make your private sanctuary more luxurious. We work with national and local retailers to get the best prices, so we can pass savings on to you.
If you want to tackle a bathroom remodel but aren't sure how to get started, contact us today.