Choosing the right bathroom cabinetry for your home is a big undertaking, and there are quite a few things you'll need to consider. It's easy to think that your work is done once you've settled on style and functional elements, like drawers instead of cabinets and wall-mounted countertops over vanity options, but the color of your bathroom cabinetry is also incredibly important.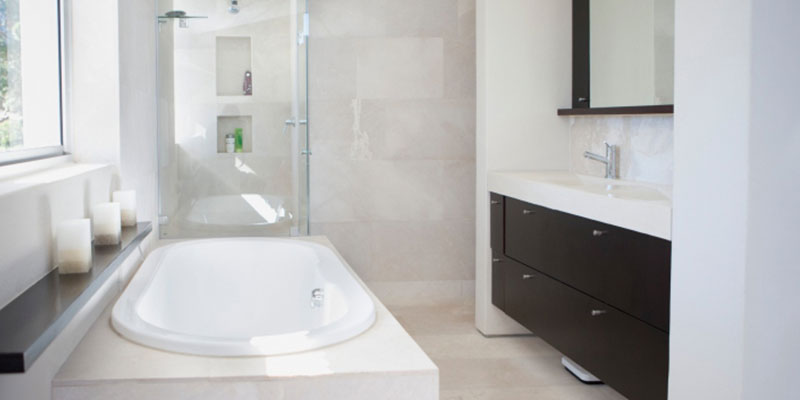 Choosing cabinetry that works with the other elements of your bathroom to create a harmonious and visually pleasing atmosphere is essential for a successful bathroom remodel. Let's explore a few of the basic principles behind color coordination and how you can pick bathroom cabinetry that looks great with your countertops.
Dominant Color Choice – The first step when selecting colors is to figure out what your dominant color will be. This might be the color of your chosen countertops, walls, or other prominent fixtures, like the tub or shower. This color will influence your choices when selecting complimentary cabinetry and other elements for your bathroom.
Contrast or Complement? Once you know your dominant color, your next choice is whether you want your cabinetry to contrast with the dominant color or complement it. Complementing colors generally create a more serene, subtle look, while contrasting colors create a more dramatic aesthetic.
Evaluate the Undertones – Figure out if your countertops have warm undertones or cool ones, and make sure you select cabinetry that falls in the same category. Keep in mind that there are warm and cool variations for most colors. For example, muted sage pairs well with warm white, whereas emerald usually pairs better with cool white.
Strike a Visual Balance – If your countertops have bold colors or patterns, such as veining or speckling, keeping the cabinets more understated is usually a good idea to avoid overwhelming the space. Similarly, if your countertops are a dark color, it might be helpful to go lighter with the bathroom cabinetry to strike a more balanced look.