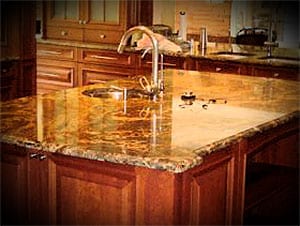 The kitchen is the heart of your home. This is where your family and friends gather to eat, socialize, work together, do homework, play board games and so much more. We often hear homeowners say they want their dream kitchen. Here at The Gallery of Stone, we completely understand your hopes and dreams of having the kitchen of your dreams. We want to discuss with you some steps to help you achieve your dream kitchen.
Start dreaming – This is where the fun starts. In order to get your dream kitchen, you need to know what you like. Start looking at kitchens that inspire you. Take pictures, clip magazines, make a Pinterest board, or even create an inspiration board out of a corkboard.
Be realistic – Now is the time to look at all of those big dreams for your kitchen and your budget. You will need to know what your hard budget is and understand that most remodels can go over budget by a few thousand dollars. We recommend deciding what your must haves are and your deal breakers. If you know that you have to have two ovens in your kitchen, then put that down as a must have. Also, consider items in your kitchen that you would like to have, but if the budget does not allow for it that you are okay with letting go of the idea.
Now that you know what you want and have an understanding of your budget, wants, and needs we recommend starting your project with an experienced, knowledgeable and dependable remodeling business. We can help you design, plan and bring your dream kitchen to life.