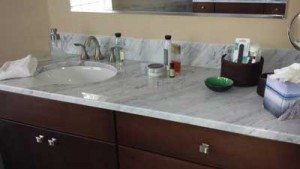 If you are thinking about remodeling one or more of your bathrooms, then you may be looking for a bathroom remodeling contractor who is knowledgeable, experienced and offers a competitive price. But how do you know if you've truly chosen the right contractor for your project? At The Gallery of Stone, we work with customers and contractors every day who are working towards a remodeling project. We have provided a few questions to ask and some considerations before deciding definitively on your contractor of choice.
Do You Sub-Contract the Work? This is an important question to ask your bathroom remodeling contractor, but it also shouldn't be cause for panic. For example, if you need to entirely redo your plumbing, having a professional plumber come in to make sure that your pipes and fixtures are installed correctly is probably a good thing. However, if they sub-contract all of the work and simply take a cut for themselves, you may not truly know what you are getting into.
Do You Have a Portfolio? Working with a professional bathroom remodeling contractor who has work to show from previous projects not only tells you that they are knowledgeable, but also gives you an idea of the options for your own project. You can always ask specific questions about their previous projects or ask if they have past customers who would recommend their work.
How Long Have You Been In Business? This may seem like an obvious question, but finding out how much experience someone has is important when it comes to choosing a bathroom remodeling contractor. The last thing you want is to have to redo your bathroom again if the work isn't done right the first time, and experience can go a long way in avoiding this scenario.
How Long Will My Project Take? As with any remodeling project, knowing how long you expect to have your bathroom remodeling contractor in your home and when you can expect the completed results will tell you a lot. If you have a major overhaul and they say only one week, you may want to think again about whether this is the right contractor for the job. However, if they give you a reasonable estimate of the time frame and you like their previous work, it will be easier to schedule a bathroom remodel that provides great results.