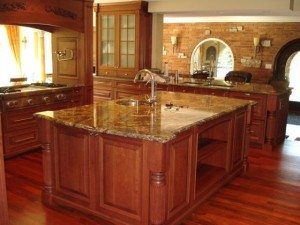 The large selection of designs and choice of colors in our showroom are not for the faint of heart! We, at The Gallery of Stone, serving the Clermont-Orlando area of Florida, are licensed and insured as a direct granite fabricator. We strive to bring you the highest-quality, premium natural stone from renowned quarries.
We understand the importance of offering only the best natural stone slabs to our clients. We believe that every dream bathroom or kitchen deserves only the best.
Our technology is state-of-the-art. We recognize that crafting luxury countertops involves a lot more than merely choosing the best materials. That's why our direct granite fabricator facility is equipped with cutting-edge machinery. As such, we are able to use fabrication processes of the highest possible precision. Investing in this technology allows us to offer our customers fabulous results and affordable prices without sacrificing exceptional service and quality.
At The Gallery of Stone, you are our customer. There's no middleman involved, so you get to save by dealing with one company, not two or more. We've got everything in stock, and you're working with just one direct granite fabricator. And, if for some reason, your slab breaks or cracks, we've got plenty more from the same lot.
In a nutshell, you get the same excellent selection that you'd expect from a distributor, the same range of services from a fabricator and installer, plus all the benefits of the best prices and convenience.
Contact us today to find out more about our home improvement products and remodeling services.