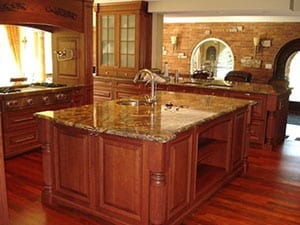 Custom cabinetry is made specifically for your renovation or new construction needs. Box or manufactured cabinets are what you typically find in 'box stores'. They are made in set sizes to fill a space. Both kinds of cabinets have their benefits. Below are some scenarios of when you may want to decide to use custom cabinetry:
You want your new cabinets to match your existing cabinets
You have a complex layout or area where you want to install cabinets
You want to use an exotic wood or unique colors
You are getting new appliances and need to make small changes to your existing cabinets
You want a unique look and style
If any one of these scenarios above sounds like you, then we recommend going with custom cabinetry. Of course, there are always drawbacks to any purchase. The one downside to purchasing custom cabinetry is that it can take longer to arrive because it needs to be constructed. The many great benefits of custom cabinetry far outweigh the one downside of waiting to have it created. We feel that the wait is well worth the reward.
Here at The Gallery of Stone, we work hard to have your custom cabinetry finished in a timely manner that fits your construction timeframe. We would love to discuss your upcoming project with you. Give us a call or stop by our store in Clermont, Florida.