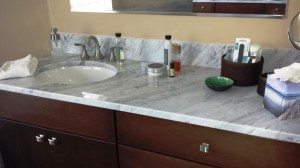 Bathroom remodeling for those who use walkers or wheelchairs, or those with mobility problems, requires specific considerations. Addressing these issues can make the bathroom more accessible and user-friendly for disabled or elderly members of your household.
Faucet & Sink Accessibility- The sink should be open underneath, so a person in a wheelchair can wheel straight up to it. For someone with a walker, the sink might need to be slightly higher, so he or she can stand straight against it without slumping or bending down. The faucet must be touch-operated, or it must have lever handles that can be switched on without grasping.
Entry & Turning Radius- For a person who uses a walker or wheelchair, ensure the doorway to the bathroom is large enough for comfortable entry. This means your bathroom remodeling plans will probably involve expanding the doorway. Also, once the person is inside, he or she will need enough space to turn around 360 degrees.
Toilet Accessibility- If someone has limited mobility or uses a wheelchair, grab bars must be installed on both sides of the toilet to help in the transfer, as well as lowering and standing.
Shower & Tub- The tub can be fitted with a vacuum-sealed door. For a wheelchair user, the shower can be roll-in without a curb, or you could have a small curb and a fitted seat, so a walker or wheelchair user can transfer inside safely.
We, at The Gallery of Stone, serving the Clermont-Orlando area of Florida, invite you to visit our website to find out more about our bathroom remodeling services.